Full disclosure: I almost never read blog posts that have "recap" in the title, especially when the subject matter is an event that happened a while ago. And that's exactly what this blog post will be. So if you don't want to read it, I completely understand. I usually don't believe in catching up, in a journal or a blog, but DC was so special that I have to record some thoughts about our time there.

Also: overenthusiastic blog post alert. You've been warned.

Okay. Here we go.

I've heard stories, and I bet you have too, of Provo moms who tag along with their husbands to an East Coast city and complain the whole time. No family. No friends. No Cafe Rio.

I don't fault these women for feeling this way (except the Cafe Rio part), but I didn't want to be one of them. I knew this would be my only time in DC with no obligations except taking care of one easy-going two year old, so I made a goal to have one outing a day in DC. I made a list on the sidebar of this blog of the places I wanted to visit and if I ever wondered what to do for a day, I just checked it out and we went somewhere on the list. Well, we didn't do something touristy every day. Some days, the outing was Costco or something equally pedestrian. But we did some awesome things.

And I hardly took any pictures. Goodness, I'm lame.

Anyway, we hit all the big museums. Summer's favorite, by far, was the Museum of American History. The "Invention at Play" exhibit was there and my little girl and I got to play with fans, balls, magnets, laser-type thingies that change depending on the pitch in your voice, etc. The museum also has a rad exhibit featuring transportation throughout the ages. We saw cool, old, trains! And metros! And cars! It's amazing to me that places equally as enchanting to a 28-year old and a 2-year old actually exist. We had a blast.

My favorite museum was the National Gallery of Art. Not because I'm an art buff - I wish I was. What was so special about this place was the building itself. Walking through the museum, I felt like I was transported into another place, a place far more beautiful (and blissfully air conditioned) than anywhere I'd visited in a long time.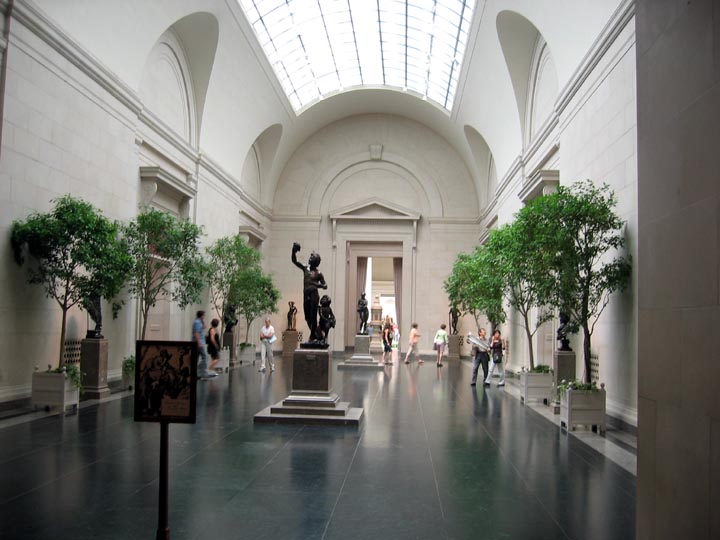 See? Doesn't it remind you of a palace? So pretty. I could spend all day there.
We went to the zoo four times. I almost died of the heat every single time. I don't know how those people wearing jeans survive. Still, it was worth it to see a baby panda slumped over sleeping on a rock.
We also managed to squeeze in a couple of weekend excursions outside the city. The first was the cardboard boat races in Oxford, Maryland, on the Chesapeake. They do it once a year, and when I found out it was during our time there and Nathaniel was free, there was no question about whether or not we would make the trip. Everyone in a beautiful, sleepy town on the Chesapeake comes out to shore and joins the visitors to watch, well, a bunch of cardboard boats do races. The best part was watching the unfortunate souls whose boats capsized swim along, dragging their boats. Maybe there was some sort of rule about not giving up, EVER. If so, I'm glad, because it was hilarious.
We also visited Nathaniel's (famous) friend in New York City. We ate some really big pizza, and some really big chocolate chip cookies. And we rode the subway a lot, and walked a lot, and our legs just about fell off. Central Park was great. I like that method of entertainment because you pay IF you're entertained. And if you have some cash in your purse.
If anyone reading this blog post happens to have options of a number of cities, and DC is one of them, I highly recommend DC. Yes, housing and food are expensive in DC. But entertainment? Free. Only once this summer was I subjected to a playground, and never did I pay to enter a museum or a zoo or any other amazing attraction. The suggested donation for a morning at the Met in NYC? Twenty bucks. DC is the right choice, so choose the right choice and be happy, you must always choose the right.
I have one major regret about my time there. Despite my love for sugar, I'm sort of obsessed with nutrition and I'm fascinated with the ways the government influences what we eat. At the Archives, there is a
temporary exhibit
about the, well, propaganda the government has used to influence American's diets. How did I not go to that? I missed the poster that explains that one of the major food groups is butter and fortified margarine. And the one encouraging Americans to eat carp. Tragedy.
Our summer in DC was really a special time for me. I'm not sure exactly why, but it was.
Late one morning, I was walking on F street, I think, looking for some food. I was waiting for the light to turn green when a man in a suit with a kind face looked at Summer and laughed. I looked at her and discovered that she was out cold. "Tired her out, huh? Too many museums, probably."
The guy seemed so nice it didn't bother me that I apparently had "tourist" written on my forehead. But I was bummed that Summer was asleep, and that the most reasonable thing to do was go home. I turned around and headed back toward the mall where I was parked.
As I walked, I realized that I didn't have to do the most reasonable thing. Sure, there was no chance that she would take a good nap in her stroller, and because of that would likely be grouchy the rest of the day. But I was in my favorite place in the whole world with a sleeping toddler. I could do anything. I could go ahead and get some food - something that I couldn't get anywhere else. I could return to the art gallery and actually sit and enjoy the indoor gardens. I could see the food exhibit at the Archives. The possibilities, while not endless, were many, and tantalizing.
As I walked, I looked down at my comfortable gray dress and metallic flats. The humidity was making a mess of my hair, despite my attempts to tame it with a braid. Tourists streamed out of buses and passed me on either side, speaking a variety of languages I didn't recognize. Rain started to trickle down, and I watched a few drops fall on Summer's hair.
Sometimes I reflect on the summer before I got married with aching nostalgia - I want to go back to the dance parties, the days spent by the pool, the belly dancing, the tingling excitement of new love. But that day, as I walked down Constitution Avenue, pushing Summer's cheap blue umbrella stroller, I felt like I had hit another high - a new standard - a time I would want to return to again and again and again. This was the good life.
The rain woke Summer up and I didn't get to do anything of those things I still dream of. But when people ask how our summer was, I have to reign in my excitement and say, "It was awesome. I can't wait to go back. Only two more years." Let the countdown begin.
Read more...